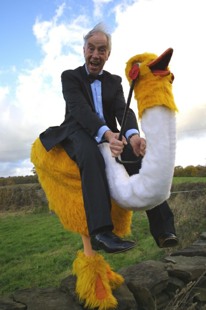 Bernie Clifton has established himself, in no uncertain terms, as one of the funniest and most versatile entertainers in British showbusiness, through numerous appearances on television, including his own series 'Theatre Royal', in concert and cabaret, summer season and pantomime.
He is renowned as one of the craziest visual comedians in the business.
Bernie was born on Merseyside and started entertaining as a teenager, working as one half of a vocal comedy duo. However it was after he completed National Service in The Royal Air Force that he turned professional and set about making a name for himself on the tough northern club circuit. It was here that he developed as a comedian, serving his showbusiness apprenticeship, before he moved naturally into television. His TV debut came in 1971 on BBC's 'The Good Old Days', followed by several appearances on 'The Comedians'.
Next came three series of 'Crackerjack' interspersed between theatre and cabaret tours in Britain, and overseas in Australia. All the time he was developing a unique act and comedy style, based on the use of a multitude of zany props and crazy visual-effects which he called "organised lunacy". It was during this point in his career that Oswald the intrepid ostrich arrived on the scene.
In 1979 Bernie Clifton was chosen to appear in The Royal Variety Show. When it was screened on television, a few days later, he was inundated with offers of work, including a contract with ATV which culminated in his own special, 'Bernie Clifton on Stage' and led to his series 'Theatre Royal'. Since then he has appeared regularly on television guesting on quiz shows, variety shows and chat shows.
Bernie has also made dozens of radio appearances and has hosted, for several years, his own hilarious BBC Radio series 'Bernie Clifton's Comedy Store' as well as travelling throughout Great Britain, for the BBC, to compere the popular series 'Three In A Row'.
Summer Season has played a major part in his career – and he has appeared in many since his summer debut in Babbacombe in 1969. Recent seasons have seen him enjoying success at all the major seaside resorts. In 1985 he made his straight acting debut starring in the farce 'The Mating Game' at the Gaiety Theatre, Isle of Man.
A very active worker for charity, including the showbusiness fraternity The Grand Order Of Water Rats, Bernie has raised a great deal of money for several worthy causes, through, amongst other things, running in the annual London Marathon.
Today, Bernie Clifton has carved a unique position for himself in showbusiness; a star of pantomime, summer season, concert, cabaret, radio and television – and he is in great demand throughout the country.
Quite simply, Bernie is one of the most original comedians in the entertainment industry, and his engaging style and zany humour have won him many friends all over the world. His visual comedy creations, including the giant shark, the Arab sheikh, the piggyback nun, the fat man and, of course, the dancing ostrich, have established him in a league of his own.
The Guardian, The Guide, Charlie Skelton's Been There, Done That
Two hours after taking my seat amid the audience, I knew that Bernie Clifton is a certifiable genius. Clifton is a genius reminiscent of Zappa: a visionary with a staggering sense of self-belief, an extraordinary work ethic, and a fearsome willingness to embrace the preposterous, the over-blown.
Between wrestling a giant inflatable deep-sea diver and doing the bossa nova with biscuit boxes on his feet, he found time to perform an avant-garde balloon dance, have his dancing marked on stage by a dog, and stick an ostrich beak up his arse. And if that wasn't enough, he brought his act to a close with a thundering rendition of Presley's American Trilogy which had the hairs standing up on the back my neck. I didn't know whether to laugh, cry or start worshipping the man.
Certainly this warm, uncynical lunatic in the funny suit is the spiritual father of Vic Reeves, Harry Hill and Johnny Vegas. Aahh! You say, but Reeves and Vegas are "ironic", "postmodern" cabaret entertainers. Well, nothing could be more ironic and postmodern than Bernie Clifton, shaking his head as a young girl led the dance-scoring dog off the stage, and muttering: "What an earth is she going to put on her CV?" Clifton knows damned well how daft it all is. He's not just a nutter with a flightless-bird fixation. Au contraire: Clifton is God.
Bernie Clifton, Cascade Revue, West Cliff Theatre Clacton