THE HYPNOTIST YOU CAN'T KEEP OUT OF YOUR MIND…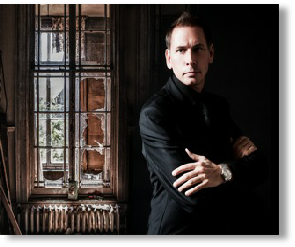 Christopher Caress has performed as a professional Stage Hypnotist for over twenty years worldwide and presents a triumph of imagination, suspense and cinematic artistry that demonstrates why stage hypnosis is fast becoming the most sought after entertainment around today. After studying at the Los Angeles Institute of Hypnotherapy, Christopher returned home to the United Kingdom with a therapeutic background in hypnosis and a highly developed sense of humour that he puts into a presentation that's unforgettable. Christopher's incredibly popular stage show is credited with giving the hypnotic show a whole new image combining the intrigue of the mind with the glamour of the mysterious…
As an acclaimed Hypnotist, Christopher's sheer originality and overwhelming talent guarantees that there is no other performer like him. His mischievous, cheeky style and unique ideas have consistently led the way & broken new ground for all stage hypnotists. Using willing volunteers from the audience, Christopher sends them into a hypnotic world rife with the unexpected and free of all embarrassment. Christopher's razor sharp humour with revolutionary approach to stage hypnotism guarantees that the results are nothing short of hilarious, as hypnotised members of the audience assume the roles of STARS!
Christopher has modernised stage hypnotism; he places a stranglehold on his audience that few can escape, captivating them with his outrageous and sometimes mischievous routines. While he might be a top-notch hypnotist, Caress is a fast-thinking comedian who milks humour out of every situation that arises onstage. He works the hypnotised volunteers like an orchestra conductor, creating a symphony of harmony out of diversified routines he creates for his individuals on stage.
If you are an organisation or individual looking for a unique special event with a difference then look no further. Whether it is a Cruise Line, Casino, Corporate function, private party or simply an evening of hypnotism Christopher Caress can tailor his hypnotic performance to suit your individual needs. Christopher's show is fast paced, hilarious and a theatrical adventure. His dazzling showmanship, contagious sense of humour and charismatic charm create magic on stage, delighting guests and making any occasion an unforgettable event.
CHRISTOPHER'S PERFORMANCE
The show time is flexible up to a 90-minute performance and this can be tailored to accommodate your exact requirements. Every show that Christopher performs has specifically been written and choreographed to suit the client's requirements; emphasising the uninhibited antics of the audience participants, each show is completely unique and wholly dependent upon the personalities of the audience.
Each show will leave any audience buzzing with excitement and inspiration for weeks to come. The stars of the show are the audience and no two audiences are the same. Because of the wide and varied unique routines Christopher has developed over the many years he can target his show to any audience ensuring maximum enjoyment. All volunteers who wish to participate in the show must be over the age of 18 years.